Shari has been caring for my 2 kitties for the past 2 years and we (and they) have never had a better pet sitter. She is absolutely reliable, and the cats love her. In fact, we can tell how much they iike her by the way they behave when we get back – they are so calm and happy that it's like we never left! (And anybody who knows cats knows that cats *will* let you know if they are unhappy.) I also really appreciate her quick response to email, and her flexibility. We once had to go away on very short notice and Shari was there for the cats without any hesitation. She even called us to check in when our return was slightly delayed. We highly recommend Shari and Comfy Critters.
Wendi Pohs
Shari has been sitting for our cats since we moved to Issaquah 4 years ago. Originally, it was our two cats- Milton & Mokie until Milton passed away last year. Mokie adores Shari- especially the extra attention and brushings she gets! Our vacations are so much more relaxed knowing that Shari is watching over our little ones- and while we are gone, she will pick up our mail, alternate our lights and, if we had any, water our plants! I like the idea that Shari makes us call when we get home- if we don't call she will keep coming. And she will leave us a note about how the cats were when we were gone- how well they ate, who got sick, who was naughty and who was nice. Thanks Shari!
Mary & Alex Teo
Shari had been a valuable asset for us not only in piece of mind that our two Golden Retrievers are being checked up on and exercised but that they are being trained in the process. There have been several times when Shari has called to alert me of out of the ordinary behavior and I have been able to come home and care to them. Shari is exceptionally trustworthy and extremely reliable and most importantly our dogs have come look forward to their walks and interaction with her. The relationship is apparent when you watch how our dogs react to Shari and how she reacts to them.
We hired her to walk them but what we really received was someone that genuinely cared about the two animals that my wife and I love and someone to help train them and watch them grow. When we decided to buy our first home last year the area that Shari covered was a significant contributing factor in where we would move… if that doesn't say it all what else does?
Ben Rush
Comfy Critters provides excellent pet sitting services and has been caring for my sweet kitty for several years. I can always count on Comfy Critters to provide reliable and caring service for this special member of the family. Working with Shari at Comfy Critters is great. I highly recommend Comfy Critters for your petting sitting needs.
Diane C.
Our cats like Shari better than us!! or almost. Shari has been taking care of our two very old cats for almost 6 years. When we had to leave the cats before Shari, they were extremely indignant when we returned. After Shari came into our lives, the cats have been very happy and well adjusted when we return home. She is reliable, consciencious and loving to our pets. Recently, one of our furry children passed over the rainbow bridge and Shari has been very conciderate and caring for our remaining furry child. Over the years, we've left lights on, had the alarm company call us (because the cat opened the door), etc., and Shari is always there for us. Shari is the best!!
Vicki Scherer
We have been using Shari to care for our dog Abbey for 11 years now. She is wonderful with animals! She is very flexible, reliable, and trustworthy. We use Comfy Critters whenever we go out of town. Shari stays in our home while we are gone. Even though Abbey is sad when we leave, we know she really loves Shari and she will be fine. We never worry when we leave Abbey in the care of Shari. We know the dog and the house will be well taken care of.
Christi Whitten
Shari provides great care for Cody, the world's largest chihuahua at 16 pounds and 4 years old. I work away from home at least ten hours a day, so it's always great to know that Shari has spent time with him each afternoon. When I come home Cody is contently sleeping on my bed, not anxious by my daily absence. Also, Shari arranges for her own substitute on those very rare occasions when she takes a day off for herself (which she deserves to do more often but she works too hard!). No worries at all using Shari's service!
Andrew Prazuch
Shari at is one of the best things to ever happen to us! She has been taking care of our beloved pets for over 15 years and we feel she is part of our family. Shari is extremely conscientious, reliable, and trustworthy. Without Shari, we would not leave our beloved pets as long or as frequently. She loves our dog Bailey and treats him like her own. When we leave town we never worry about our animals or our house so we can completely enjoy our time away. We know Bailey and our house are looked after with lots of TLC. We highly recommend Comfy Citters to anyone. It's a suburb service!
Bobbi & Don
In the past it always seemed like such a struggle to get out of town, and sometimes we just wouldn't, because it was such an effort to find someone reliable and whom we could trust to take care of our animals. And then i found Shari and Comfy Critters – and she saved us! She came out for an "interview" with our pets to get to know them prior, and now i am at the point that i can just place a call to her and she is completely reliable and i have no worries at all when we leave town. She is incredible, her care is loving and i never am concerned about the animals anymore. And she is highly organized and keeps the pet areas incredibly clean… I don't know what i would do without Shari!
Kathy
Shari is absolutely amazing. I've worked for the Humane Society for the past seven years, and I've had a lot of exposure to many different pet sitters. I have to say that Shari is unequivocally the best. When I asked the front office at my vet in Issaquah for a recommendation for a local pet sitter, the answer was unanimous: Shari Garski from Comfy Critters. They said she is trustworthy, reliable, the animals love her and she gets excellent reviews. I have to agree with them on all counts. It was the best decision I could have possibly made for my four dogs and three cats.
My dogs are senior citizens and most require medication or special attention, and one of the cats has long term renal failure. Shari is absolutely on top of how they are doing each day. If someone isn't feeling well or is off their food – I get a call or a text. If there are any concerns or questions, I can count on Shari making sure I'm aware of them. There are always notes written about how the kids are when I get home at night. I never have to worry that Shari is going to miss something.
Even if someone is naughty and breaks into trash cans or recycle bins, Shari cleans it up and lets me know what happened. She has great ideas to help make my menagerie of animals happier and more manageable. She takes the time to make everyone treat balls to play with when she leaves.
I recommend Comfy Critters to everyone I meet through work. My fur kids and I are very thankful for and appreciative of Shari. Shari – you are AWESOME! Thank you!
Catherine Smith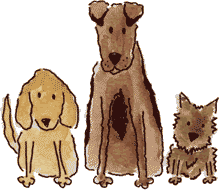 Shari has been taking care of our dogs, from golden retrievers to dobermans, for about 18 years. We feel like she is part of our family and won't plan a vacation without her. She is now taking care of our three legged doberman, Hegen and he is so spoiled we call every night to check on him. We know everything is alright when Shari says he is cuddling on the bed with her. My house is spotless when we come home, sheets and towels washed and changed and Hegen is always happy. We don't know what we would do without Shari!
Hegen
Shari has been pet sitting for us for over three years. She's come by to take Joey, our Aussie Cattle Dog on walks and visits Ziggy, our orange tabby while we're away on vacation. I know Ziggy is in great hands while we are gone and makes vacation planning so easy knowing I can count on her. When we return, Ziggy doesn't even seem to have missed us! We highly recommend her services, she is very professional, organized and most important, trustworthy with our furry family members. As an additional (unadvertised!) service, we contacted her in a panic from out of state as we had left our passports at home. She went by the next morning and overnighted them to us. Whew! As I said, you can completely count on her.
Kerry
Shari has been taking care of Suzie and Gremlin since 2006. She is very dependable and often available on short notice. Suzie and Gremlin are indoor/outdoor cats. If they are away from home, they will return shortly after Shari arrives. It makes me feel better to know that they are home part of each day. They are comfortable with Shari and treat her like family by bringing her "gifts". Shari always cleans up after them and removes all evidence before I return home. We're glad we found Shari and look forward to a long relationship.
Linda
Where do I begin with such wonderful things to say about Shari!! I have been using Shari for about a year now, and I couldn't be more thankful for her services. My two cats, Peanut & Prissy, are like my children and I wanted a pet sitter that cares for them with the same love and kindness that I do…and Shari has done an amazing job. I couldn't ask for anything more! Both of my animals have had medical issues over the last year, and it's been such a relief to have Shari look after them when I'm away. I know my kitties are in GREAT hands! I even email Shari for her opinion whenever I have questions regarding my pets…she's a great resource and always has great advice or tips! Thanks Shari for all you do!
Jennifer